Welcome again on the website of Max Timmerman.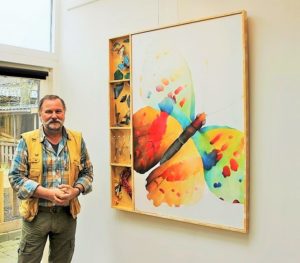 Max in atelier in The Netherlands!
Max (1950) is beeldend kunstenaar, schilder, tekenaar, graficus, schrijver en maker van kleine objecten en gedichten
Max studeerde in 1973 af aan de Academie voor Beeldende Kunsten AKI in Enschede. Was enige jaren docent aan diverse Creativiteitscentra en stichtte in 1975 vanuit "Sterrenberg" de 1ste ateliers in de Gezondheidszorg voor mensen met Verstandelijke beperkingen. Hij was Divisiemanager Dagbesteding bij Sterrenberg/Abrona tot 2000 en tot 2005 artistiek directeur van de stichting "Ateliers en Galerie Leonardo da Vinci" in Ermelo.
Max (1950) is an artist, painter, illustrator, printmaker, writer and creator of small objects and poems
Max graduated in 1973 from the Academy of fine arts AKI in Enschede. For  some years he taught at various Creativity Centres and founded in 1975 at "Sterrenberg" the first Art studio's in health care for people with intellectual disabilities. He was division manager at Sterrenberg/Abrona untill 2000 and to 2005 artistic director of the Foundation "art studios and Gallery Leonardo da Vinci" in Ermelo. 
Hij organiseerde, wereld wijd, tentoonstellingen, initieerde kunstprojecten en gaf lezingen, schreef boeken en artikelen over de "Originele Beeldende Kunst" van mensen met verstandelijke beperkingen. E.e.a. gebaseerd op het "Oorspronkelijk beeldend vormgevingsvermogen". Deed onderzoek naar het vormgevingsvermogen van Mensen met Verstandelijke beperkingen. Werkte samen met Prof. Dr. Max Kläger uit Duitsland, Prof. H. Dethier uit Brussel en Prof. Collin Brox uit Engeland. Dit over de Kunst die heden ten dage verbonden wordt met de Art Brut en Outsider kunst. Max ontving in 2000, op basis van zijn pionierswerk, zijn Master Art degree in Art and social studies. Hij was jarenlang verbonden aan het INSEA (International Soceity for Education trough Art) en bestuurslid en adviseur van Very Special Arts Nederland en Europa. In 2017 is hij voor zijn werk m.b.t. "Kunst in de Zorg" Koninklijk onderscheiden als ridder in de Orde van Oranje-Nassau.  Max is Adviseur kunst & cultuur en tentoonstellingsbeleid van het Kulturhus "De Spil" in Nieuwleusen.
He organized worldwide exhibitions,  initiated art projects and gave lectures, wrote books and articles on the "original Art" of people with intellectual disabilities. Based on the "Originally visual design abilities".  Did research on the design ability of people with intellectual disabilities. Working  together with Prof. Max Kläger from The University of Heidelberg, Germany, Prof. H. Dethier from Brussel, Belgium and Prof. Collin Brox from England. This is about the art that today will be associated with the L'Art Brut and Outsider art. Max received in 2000, on the basis of its pioneering work, Master Art degree in Art and social studies. He was for many years associated with INSEA (International Soceity for Education through Art) and a Board member and Advisor to Very Special Arts Netherlands and Europe. For his work in the field of Art and Healthcare Max received in 2017 a Royal honour in the knighthood of Orange-Nassau.  Max is a consultant art & culture and exhibition policy of the Kulturhus "the Spindle" in Nieuwleusen. The Netherlands. 
Ateliers:   Naast zijn parttime functies werkte Max altijd in eigen ateliers in Getelomoor in Duitsland. Eck en Wiel, Zeist, Ermelo, Moulin des Vernes in Montpensy – Frankrijk en in Nieuwleusen . Hij verhuisde in 2005 naar het Domaine Moulin des Vernes in de Morvan. Frankrijk, om zich meer te wijden aan zijn eigen kunst in zijn eigen atelier annex galerie. Hier woonde hij tot 2013 en richtte samen met enige kunstenaars Morvan Artistique op. In Frankrijk exposeerde hij regelmatig in de Bourgogne en in Parijs. Zijn kunstwerken zijn opgenomen in vele particuliere collecties en geëxposeerd tijdens tentoonstellingen in verschillende landen. Vanaf 2013 werkt hij in zijn atelier in Nieuwleusen – Overijssel.
Artstudio's:
In addition to his part-time jobs, Max always worked in his own artstudio's in Getelomoor in Germany. Eck en Wiel, Zeist, Ermelo, Moulin des Montpensy-Vernes in France and in Nieuwleusen. He moved in 2005 to the Domaine Moulin des Vernes in the Morvan. France, to devote himself to his own art in his own Studio annex Gallery. Here he lived until 2013 and founded along with some artists "Morvan Artistique". In France he exhibited regularly in Burgundy and in Paris. His works are included in many private collections and exhibited during exhibitions in different countries.  Starting from 2013, he works in his artstudio in Nieuwleusen-Overijssel.
Max Timmerman. Visual Artist.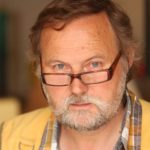 Drawings, paintings, lithographiques and small scale objects and poems.
Max is born on 24 April 1950 in The Netherlands. Studied at the Academies of fine Art in Utrecht and Enschede.
Specialist in oil on canvas, acrylic on canvas, lithographiques and small scaled objects. His works has been exposed in The Netherlands, Allemagne, Taiwan, USA and France.
You can contact the artist in is Artstudio in the Netherlands.
Téléphone: 0031 (0) 529 785091.
E-mail: m.timmerman@wanadoo.fr en m.timmerman1950@telfort.nl. www.kunstmaxtimmerman.com.
Exhibitions:
The Netherlands. France – Bourgogne et Paris. Allemagne – Duisburg, Taiwan – Taipei. USA – Thiels NY en Washington DC.
Voyages :
Europa: Benelux, Spanje, Portugal, Italië, Engeland, Scotland, Zwitserland, Denemarken, Noorwegen.
Rusland: Moscow, Leningrad. Aruba.  Brazilië: Rio de Janeiro, Sao Paulo, Araras, Fos de Iquasu, Amazone/Manaus. Taiwan: Taipei. China: Hong Kong, Kanton, Kunming, Dali, Beijing.
South Afrika: Johannesburg, Kaapstad, Hoedspruit, Paul Krugerpark,
Zimbabwe, Zambia, Namibië, Botswana: o.a. Victoria Watervallen.
Maleisië: Kuala Lumpur. Australië: Melbourne – Cairns, Great Barrier Reef.
Japan: Osaka, Sendai Miagi, Kyoto.